Ahoy there again! Today we have our worst screenshot until now of the project Children of Solarus. But do not worry, because the next ones may have tasty surprises! :D
Our screenshot shows Eldran jumping with the new custom jump, which is much better than the built-in jump used in MoS-DX. Some annoying pink flowers and a mysterious wooden house can be seen.
Challenge: Can you guess what is written in the signpost in morse code? :)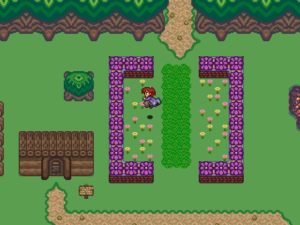 We are coming back in 2 weeks with more news. Stay tuned!